Take a look at pics from our flagship Print-and-Play game, The Morgenrood Murder Mystery!
Inspired by my historic childhood home, this game was such fun to put together. I gathered a bunch of people who didn't know all the other guests and it became a very surreal – and unintentional – team building game!
With a gorgeous, historic mansion as our location, the guest list was a mix of colleagues, acquaintances, family members and long-time friends who knew no more than 2 people each.
At a normal dinner in Cape Town under these circumstances it would be a miracle to leave having spoken to everybody! (Apparently we're quite cliquey?! Yikes!) But by the end of the dinner, each and every guest was 100% engaged – for three hours. The only other time I've seen that was was at a headlining play on London's West End. Seriously. I think that's what makes Murder Mystery Guide Experiences special – they act as team building games without that being the headline of the evening!
Guests arrived and were a little nervous, so it was my job as the host to stay firmly in character and help them ease into our make believe world.
I think one of the keys to a murder mystery dinner working well is the guests intuitively being able to give other guests (and their characters) space to shine.
We assume it will be the extroverted personalities that dominate, but often a murder mystery dinner allows introverted people to tap into a place in themselves that's rarely seen, but really quite magnificent.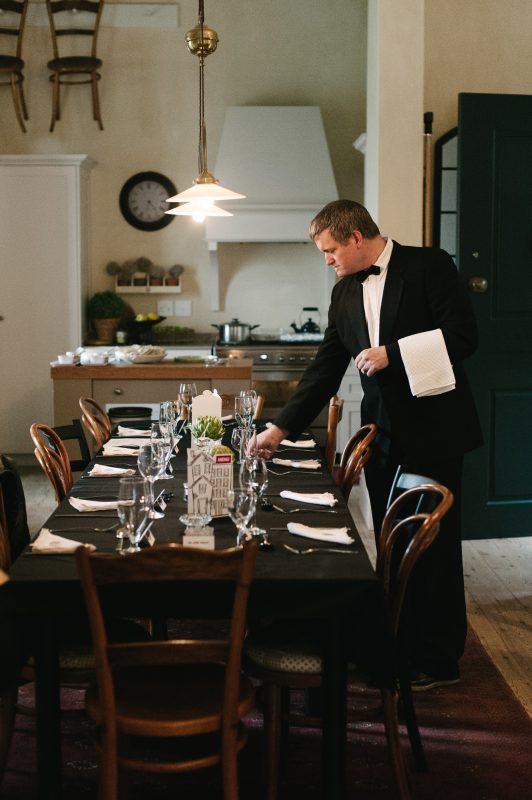 Take Banks the Butler (Brett). He's a writer who loves deep conversations in small groups, but he also is part of a local theatresports company that provides entirely improvised shows to audiences, large and small. When you meet Brett off-stage, you wouldn't automatically imagine him on a stage, but the murder mystery dinner opened a door for him to bring his unique brand of magic to the evening.
Completely immersed in his butler persona he capitalised on many dramatic moments that contributed significantly to the game.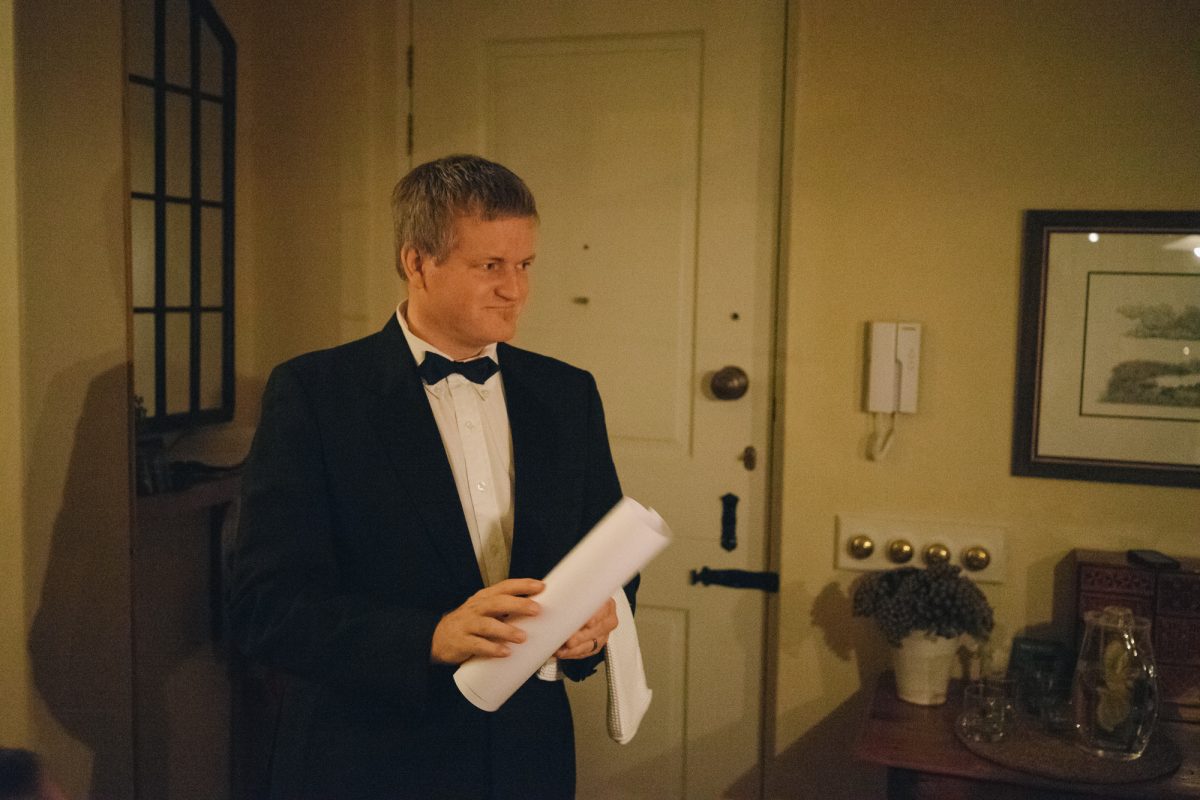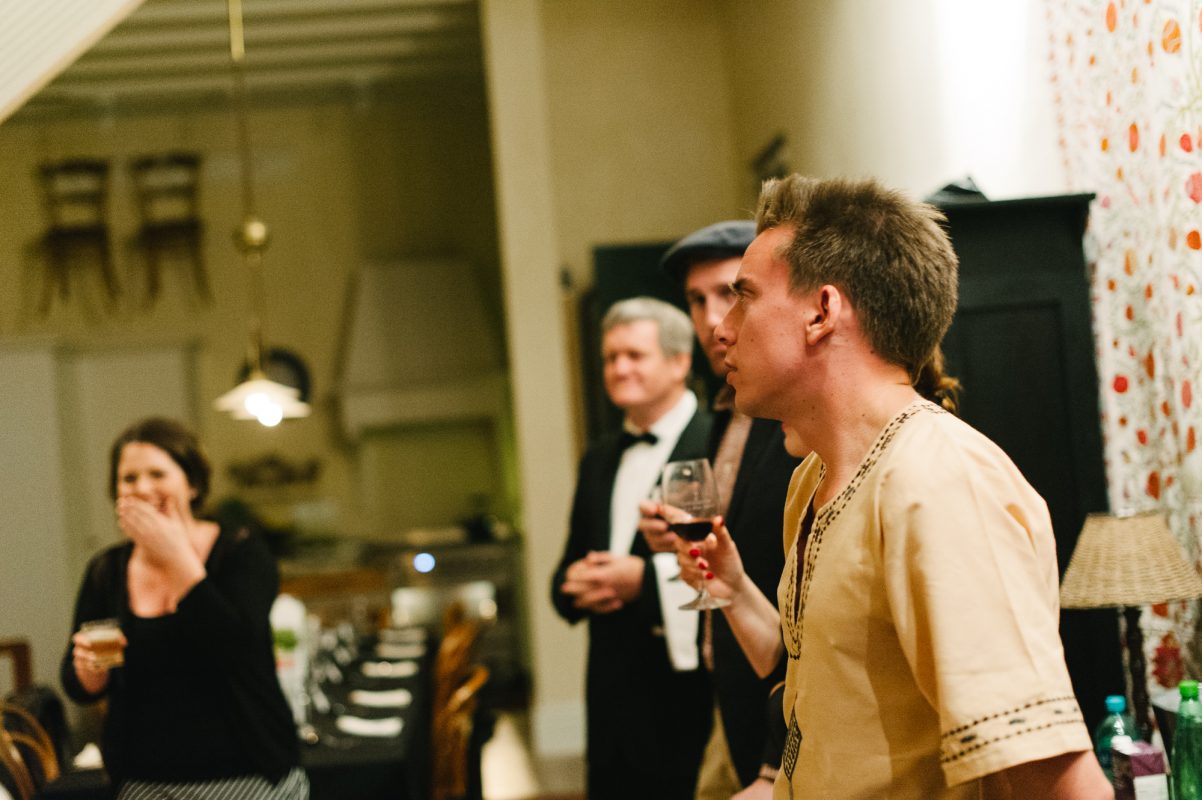 Something I hadn't ever seen before also happened at this particular murder mystery dinner. Towards the end of the first section of the evening, while guests were still introducing themselves in character and snacking on canapés, a shared joke developed and was referenced often throughout the rest of the night. That single joke had the power to draw every single player together and was the most prolific influence on the group's sense of connection that night.
The venue belongs to my parents, who kindly vacated their sanctuary for the evening (although my domestic goddess of a mother had also basically single-handedly prepared most of the food and popped in periodically to help serve and even clean up – in character!).
The location very naturally influenced the catering too.
A famous South African dish, bobotie (boo-boor-tee) was selected for the main course, with West Coast snoek pâté with crackers before, and a delectable caramel peppermint pudding after.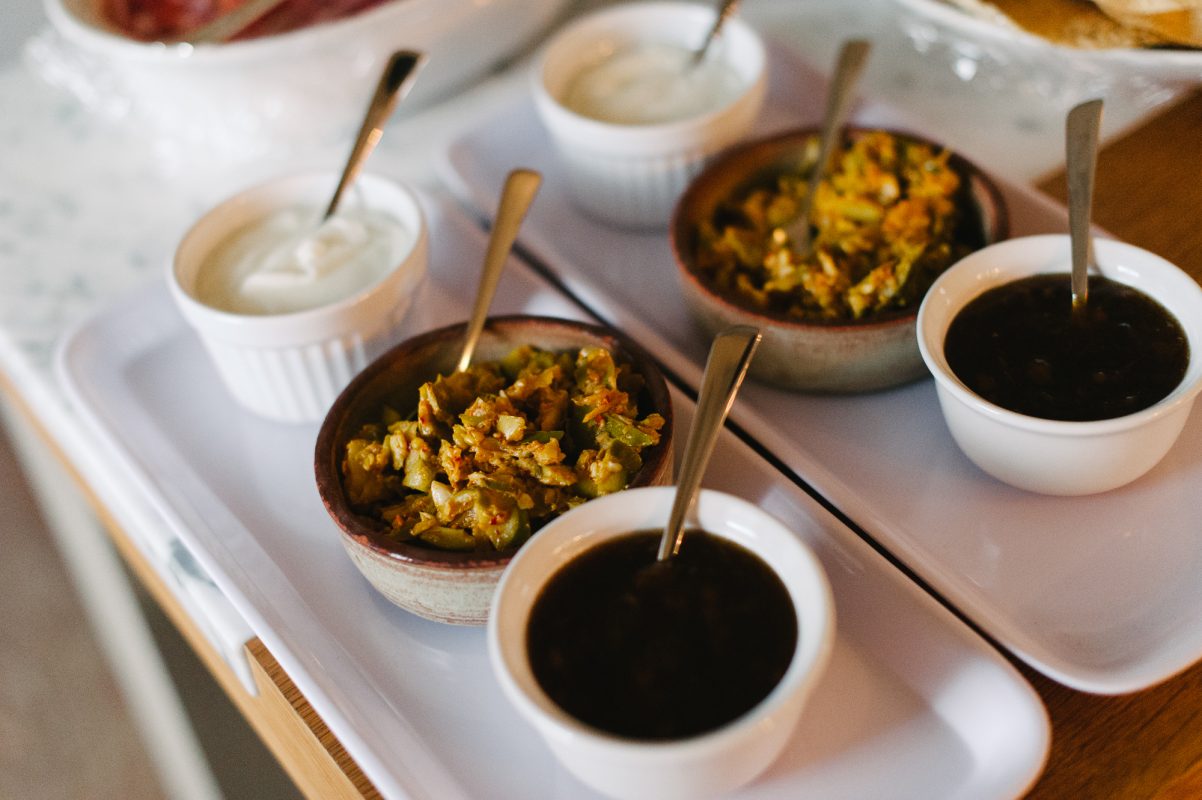 What a beautiful way to christen the launch of the The Brilliant Murder Mystery Guide DIY eBook – with great friends, great food and great accents! I hope you have as much fun playing this game as we did!
You can purchase The Morgenrood Murder Mystery Print-and-Play game, then print it out at home or at your local copy shop. You'll also receive a link with instructions on how to play the game. Easy peasy. Enjoy!
Love Lisa